Dr. Sue Decotiis, MD of Midtown Primary Care Doctor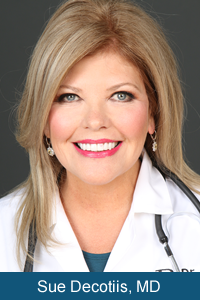 Sue G. DeCotiis, MD is a Board Certified Medical Internist (General Practitioner) and New York State Licensed Physician in private practice in Midtown East NYC for over 20 years. The doctor is also an attending physician at Beth Israel Medical Center as well as Lenox Hill Hospital in NYC. Dr. Decotiis obtained her medical degree from the New York Medical College, Valhalla, New York.
Dr. Decotiis's internship in Internal Medicine was completed at Lenox Hill Hospital in NYC, and her residency in Internal Medicine and Pathology were completed at Westchester County Medical Center and NYU Medical Center respectively.
Triple Board Certified: Internal Medicine, Obesity Medicine, Anti-aging / Regenerative Medicine
New York State: Licensed Physician
Member: American Society of Bariatric Medicine
Attending Physician: NYU Medical Center, NYC, New York
Attending Physician: Lenox Hill Hospital, NYC, New York
Education
Medical Training
Residency: Pathology NYU Medical Center Residency
Internal Medicine: New York Medical College, NYC, New York
Residency: Internal Medicine, Westchester County Medical Center, Valhalla, New York
Licensure
Academic Affiliation
NYU Medical Center, NYC, New York
Lenox Hill Hospital, NYC, New York
Societies
American Society of Bariatric Physicians
American Academy of Anti-aging Medicine
Published Books
A Woman's Guide to Sexual Health, Pocketbooks, Simon and Schuster
Midtown Primary Care Doctor, PC
Sue Decotiis, MD
20 E 46th St., #1201b
New York, NY 10017
Phone: (212) 685-4016