Best Rated Midtown NYC Primary Care Physician, General Practitioner, Internal Medicine Doctors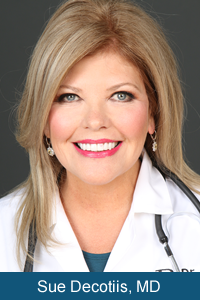 Located in Midtown Manhattan and conveniently situated between Grand Central Terminal and Rockefeller Center, Dr. Sue Decottis' internal medicine practice is dedicated to providing you with state-of-the-art personalized, professional, quality healthcare. All major insurance is accepted, new patients welcome, and emergency appointments are available.
Sue Decotiis, MD
Triple Board Certified: Internal Medicine, Obesity Medicine, Anti-aging / Regenerative Medicine
New York State: Licensed Physician
Member: American Society of Bariatric Medicine
Attending Physician: NYU Medical Center, NYC, New York
Attending Physician: Lenox Hill Hospital, NYC, New York
Treatment Philosophy: You, the patient, are the ultimate "customer" in the true sense of the word. We hope you agree, medicine is the ultimate customer service business. We will strive to provide, for you, the best possible medical care. We have a strong commitment to preventative medicine and seek to promote the wellness of each and every patient. As a patient at our Midtown NYC practice, you can be assured that you will be cared for by a doctor who knows you and treats you like a person, not a number.
"As your primary care physician / general practitioner I will customize a wellness program that is completely unique to your health care needs.  From diet modification, weight loss programs, rapid sickness recovery, to wellness programs, aspirin regimens, hormone replacement therapy, or allergy testing, we will work together to keep you feeling fit and healthy in the years to come though the most contemporary and best practices in internal medicine." ~ Dr. Sue Decotiis
Board certified in internal medicine, we are devoted to the prevention, diagnosis and treatment of diseases affecting adults. We are skilled in the management of acute and chronic medical problems such as high blood pressure, high cholesterol, diabetes, and heart disease. However, we place a high priority on wellness and disease prevention to ensure a lifetime of good health.
Please note: The primary care physician accepts most insurance and additionally accepts full out-of-network insurance benefits (we will contact your insurance company and submit them for you). You will enjoy the luxury and benefit of academic medicine in a top rated medical environment without the hassle of long wait times and paperwork. New patients are always welcome and same-day appointments are always available. The general practitioner, Dr. Sue Decotiis, believes in setting time aside every day to make room for necessary same-day appointments as well as emergencies.
General Care:
Annual Wellness Visit
Allergy Testing
Preventive Health Care
Sick Visits – Including Strep Testing
Cardiovascular Health Screening
Weight Loss – Nutrition and Exercise Counseling with followup
Vaccinations – Tetanus/Diptheria/Pertussis, Hepatitis A&B, HPV, Polio, Pneumococcal, Shingles
Travel Vaccinations / Travel Immunizations: Travel Medicine- Location Specific Travel Vaccinations
Employment/Immigration/School Health Forms Completed
Insomnia
Flu Shots
General Gastroenterology
ADHD
Anxiety/Depression
Migraines
Stress Reduction
STD Prevention, Treatment & Screening
HIV Testing & Post-Exposure Prophylaxis
Pregnancy Testing
Dermatology: moles, acne, rashes, medical grade peels, cosmetic injectables, medical chemical peels (Board Certified Dermatologist onsite)
Referrals
Corporate Physicals
Diagnostic Screening:
Ultrasound
Allergy Testing
Carotid Doppler Screening
EchoCardiogram
EMG Screening (Electromyography)
Disease Prevention & Preventative Healthcare:
Annual Wellness Visit
Cardiovascular Health: Cholesterol, EKG, Echocardiogram and Carotid Doppler Screening
Weight Loss: Nutrition Counseling with Follow-up
Vaccinations: Tetanus/Diptheria/Pertussis, Hepatitis A&B, HPV, Polio, Pneumococcal, Shingles, MMR
Preventive Medicine:  which includes the early detection and prevention of coronary artery and vascular disease.
Integrative Medicine:  emphasizes the relationship between the doctor and patient, the innate healing ability of the body, and the importance of addressing all aspects of an individual's life to attain optimal health and healing.
Dr. Sue Decotiis is proud to be an NYC top rated best in class primary care doctor on Vitals, HealthGrades, MakeMeHeal, Google+, RateMDs, and other doctor's services rating websites.
Providing quality, patient-centered services, the doctors and staff of Midtown Primary Care consider it a privilege to serve and educate their patients.
Although most medical problems can be diagnosed and treated by your Dr. Decotiis some conditions may require referral to a specialist. We work with a select group of specialists throughout NYC to ensure our patients receive the highest quality of care.
**Our triple board certified Primary Care Doctor offers in-person and virtual consultations (from anywhere in the world).
If you have questions regarding our services or would like to schedule an appointment with Dr. Sue Decotiis, please contact our NYC medical practice:
Midtown Primary Care Doctor, PC
Sue Decotiis, MD
20 E 46th St., #1201b
New York, NY 10017
Phone: (212) 685-4016